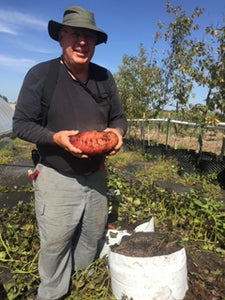 GARDENING FOR 50 YEARS
Part 1 in our new Gardening Series, from expert grower Connor Shaw, Possibility Place Nursery in Monee, IL.

   Vegetable gardening is coming to end for 2020. I have some carrots, leeks and chard to pick this week. The kale will last another few weeks. I have some compost to put down and it is done for the season.
   I have been gardening for about 50 years. I have approximately. 4000 square feet of garden of which about 500 sq./ft. is permanently fenced to keep rabbits out. I also have 80 acres of which I plant a 200 to 300 foot row of potatoes. This row is moved around a lot to keep ahead of the potato bug.
   For 50 years each spring I start out as an expert and each fall end up being an amateur. I try to be organic, but all plants that I grow in plugs have a soilless mix. I have a native plant nursery and we grow all our own plants. I use the soilless mix the nursery has. Once the plants are in the garden it is 100% organic, meaning no pesticides or fertilizers. I do irrigate by hand and drip irrigation.
   I do very well with onions, tomatoes, potatoes, popcorn, cabbage family in general, greens, beans, cucumbers, peppers and herbs. Each year I experiment with new plants and new ways to grow them.
   This year I decided to grow tomatoes and cucumbers in the greenhouse. I grew them in 15-Gallon RootTrapper Grounder containers full of soilless mix. I grew 4 cucumber plants that grew a foot every 3 days and produced 10 cucumbers in the same time period for an entire growing season. I will do that again, but only three vines. Ten cucumbers every three days is lot to eat and friends will only take so much. I will not be growing cucumbers in the garden next year.
   I grew greenhouse tomatoes, both grape size and full size. The grape tomatoes were sensational. I will raise them again. However the full size tomatoes tasted like cardboard and didn't ripen until the ones in the garden did. They are a no go next year and in their place will be peppers and eggplant.
   One of my failures this year was eggplant. I covered it with fabric and the potato bugs still got them. I inspect the plants each day and did a lot of potato bug killings. I got a few eggplants.
   I really love sweet potatoes, but not as much as the voles. This year I decided to outfox them. Really!!! I planted sweet potatoes in soilless mix in 15 gallon containers with irrigation. I put out box traps with two holes and two traps with no bait in each one of them. A month before I harvested the potatoes, I pulled the traps off. I wasn't catching anything and the traps were needed elsewhere. That was a mistake, for when I harvested them the voles had helped themselves including eating through the cloth sided container. First of all, I got plenty of potatoes. I don't have a problem with cutting off the area the voles nibbled on and eating the potatoes. However I had a very large sweet potato that they bored right through the middle of it. I asked myself, how long did it take them to do that and what else were they doing in the tunnel. I threw that one out.
More next time...
---